The Orthobiologic Institute (TOBI) alumni , Thomas Vangsness Jr M.D., recently published a ground-breaking article examining the intra-articular application of Mesenchymal Stem Cells (MSCs) following partial medial meniscectomy, a common knee surgery where part of the damaged meniscus is removed on the inner portion of the knee joint.  This study examined the effects of MSCs on post-operative regeneration of meniscus tissue and changes in Osteoarthritis symptoms.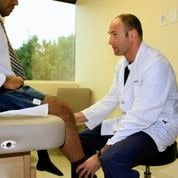 The study consisted of 55 patients who underwent a partial medial meniscectomy, and   received one of three different intra-articular knee injections 7-10 days post-operatively.  Patients received either a high concentration of MSCs, low concentration, or a control.  The patients were followed for 2 years and assessed for overall clinical outcomes, meniscal regeneration, and safety. The study revealed significantly increased meniscal volume (>15% increase), quantified via MRI, in both the high concentration and low concentration groups.  However, more meniscus growth was seen the low concentration group.  No patients in the control group reached the clinically significant 15% increase in meniscal volume.  Furthermore, patients with existing osteoarthritis, experienced a reduction in pain compared the control group.
This article represents a ground-breaking study in the use of biological cell therapy, also known as Orthobiologics, for post-operative healing and tissue regeneration.  The results revealed evidence of meniscus regeneration and decreased Osteoarthritic pain levels with the application of post-operative MSCs.  Due to the fact that the lower concentration of MSCs experienced increased meniscus regeneration, it may be possible that the optimal therapeutic potential for MSCs has a concentration "sweet spot", meaning that more cells are not necessarily better. Most importantly, the study did not illustrate any unsafe side effects or abnormal tissue growth.  The results of this study support the regenerative potential of MSCs and suggest the potentially safe and effective use of Mesenchymal Stem Cells following meniscus surgery. Although more human trials are needed to completely evaluate the efficacy of post-operative MSCs, this new study adds validity to the mounting evidence for Orthobiologics in orthopedics.
At the Orthohealing Center, we commonly perform biologic based injections like PRP & BMC following meniscus surgery to accelerate healing & to preventatively address osteoarthritis, which increases after a meniscus or ACL tear. Check out our website for more information about PRP and BMC therapies.
Don't forget to follow us on Twitter and Facebook for great articles and health tips !