AS ONE OF THE MOST OVERUSED JOINTS IN THE BODY, THE ELBOW IS HIGHLY SUSCEPTIBLE TO INJURY.
At the Orthohealing Center, our goal is to diagnose your injury properly, and provide alternative treatment options that can potentially alleviate your pain and provide lasting results.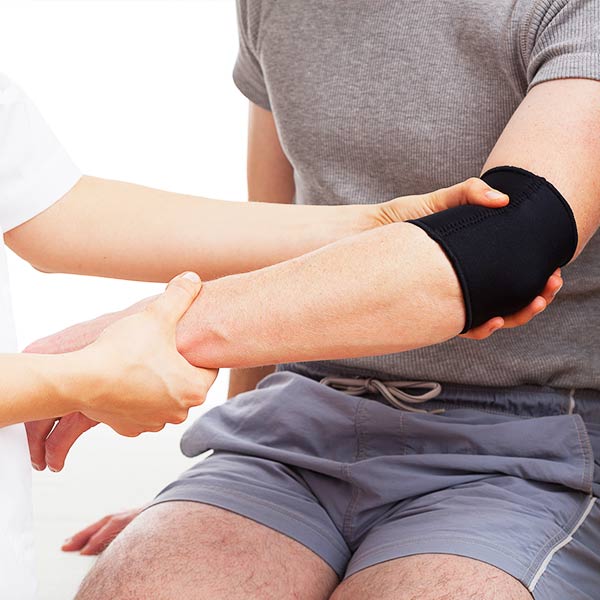 Elbow pain can take many forms, depending on the underlying cause. For example, an injury or disease affecting the area may cause:
Pain on the inside or outside of your elbow
Discomfort that's worse at the end of the day
Warmth
Swelling
Tenderness
Decreased range of motion
COMMON CAUSES OF ELBOW PAIN
As with other joints in the body, a variety of diseases and injuries can affect the complex elbow joint, causing pain, swelling and a number of other uncomfortable symptoms. Some of the most common ones we see among our patients in Beverly Hills and surrounding areas include:
BURSITIS
Your foot and ankle joints are cushioned by fluid-filled cushions, called bursas. When these structures become inflamed, they can't absorb shock as they're intended to, and your joints may become irritated – causing pain, stiffness and swelling.
TENNIS ELBOW
Tennis elbow is an overuse injury that results in joint pain that worsens when squeezing objects. Although it's quite common among tennis players, it can also affect other athletes and individuals as well.
THROWING INJURY
Common among pitchers and throwing athletes, this injury tends to occur gradually over time, causing pain and limited throwing capabilities.
SPRAINS
A sprain occurs when the ligaments that support the bones of the elbow joint stretch or tear, causing pain, swelling and bruising.
STRAINS
When the muscles around the elbow become damaged, it's referred to as an elbow strain. This type of injury has a tendency to cause pain, swelling and a loss of function.
GOLFER'S ELBOW
Golfer's elbow affects the tendons that connect your forearm to the elbow. It causes pain that starts on the inside of your elbow joint and radiates down the forearm.
OSTEOARTHRITIS
Arthritis of the elbow develops when the cartilage inside your joint starts to thin or becomes damaged, causing pain and a decreased range of motion.
TENDINITIS
A common overuse injury, tendinitis occurs when the tendons around your elbow sustain tiny tears or become inflamed and irritated.
PREMIER TREATMENT FOR YOUR ELBOW PAIN
Once we identify what's causing your elbow pain, we can begin treating the underlying injury or disease. Throughout this portion of the process, our goal will be not only to relieve your symptoms – but also to prevent further damage, reduce inflammation and heal the area. We will attempt to accomplish all of this without surgery, instead focusing on minimally-invasive orthobiologic treatments.
Disclaimer: Our healthcare practitioners use products and perform therapies cleared for general use by the United States Food and Drug Administration, but specific indications for treatment have not be evaluated and reviewed by the FDA. You are encouraged to consult with your primary care physician prior to undergoing a cell therapy.