PERINEURAL THERAPY, ALSO KNOWN AS NEURAL PROLOTHERAPY, IS MINIMALLY INVASIVE AND NATURAL TREATMENT OPTION FOR SOFT TISSUE PAIN.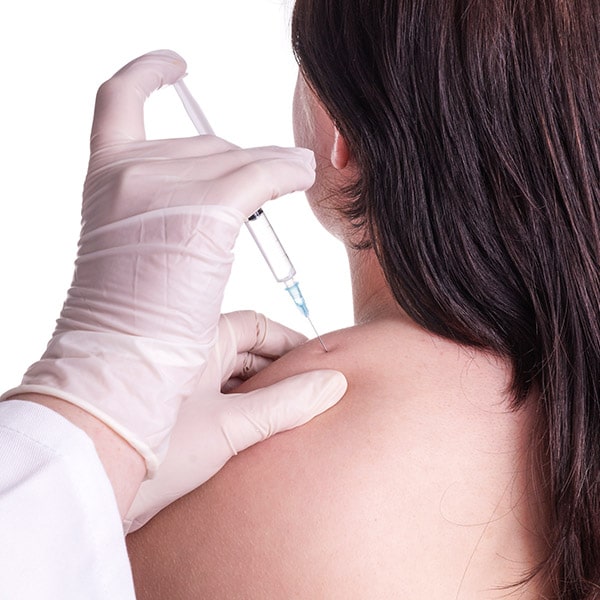 UNDERSTANDING HOW PERINEURAL THERAPY WORKS
When receiving perineural therapy, dextrose and sterile water will be injected directly into the painful area just beneath the skin to superficial sensory nerves. This solution targets small nerves that can't be seen on MRI or x-ray just underneath the surface of the skin that are oftentimes contributing to pain and inflammation.
WHAT TO EXPECT DURING PERINEURAL THERAPY
You can expect perineural therapy to be extremely tolerable. Though you may experience some minor discomfort during the actual injections, the procedure is usually very well tolerated and patients do not typically experience any substantial pain.
To begin, we'll have you lie comfortably before injecting the dextrose and saline solution directly into the painful area using a very small and thin needle. Depending on the extent of your injury, we may administer several tiny injections beneath the skin surface until all involved nerves have been targeted.
Once your injections are complete, you may experience immediate decreased pain sensation to palpation. Before you leave the office, we will "test" the pain by trying to reproduce the discomfort with pressing over previously painful inflamed nerves beneath the skin surface. If the therapy was successful, you may experience some temporary early relief or a numbing like effect immediately post procedure. This positive diagnostic feedback may indicate that more treatments in the following weeks might be indicated and helpful. After injection oftentimes we apply sonophoresis, using a handheld ultrasound device to drive in a homeopathic dextrose cream to penetrate superficial nerves. Post injection you'll be free to resume your normal daily routine right away, without any restrictions on your activity. In terms of side effects, you may experience some minor tenderness and bruising at the injection site, but it should be mild and will resolve fairly quickly.
Depending on the severity and chronicity of injury, you may require multiple injections. Most of our patients in Los Angeles return to the office for an additional two to six weekly sessions.
IS PERINEURAL THERAPY RIGHT FOR YOU?
Because neural prolotherapy is an all-natural, minimally-invasive way to treat chronic pain and inflammation, it's typically a safe approach for most of our patients in Los Angeles – especially those who would prefer to avoid traditional pharmaceutical pain relief options.
As long as you're suffering from a condition that the treatment can successfully address, such as tendinitis or arthritis, there's a very strong chance that you can benefit from perineural therapy. To be sure, we invite you to schedule an initial consultation today, so we can review your condition and medical history and help you determine if this treatment approach is in your best interest.
We invite you to schedule an initial consultation today, so we can review your condition and medical history and help you determine if you are a good candidate for perineural injectons
Disclaimer: Our healthcare practitioners use products and perform therapies cleared for general use by the United States Food and Drug Administration, but specific indications for treatment have not be evaluated and reviewed by the FDA. You are encouraged to consult with your primary care physician prior to undergoing a cell therapy.