TREATMENT/TREATMENT AREAS TAB - ANKLE/FOOT BY PROVIDING SUPPORT, SHOCK ABSORPTION AND BALANCE, YOUR FEET AND ANKLES ARE CRITICAL TO A HEALTHY AND BALANCED FOUNDATION OF PHYSICAL HEALTH
When these areas become injured, the pain can be debilitating, and may prevent you from thoroughly enjoying your life. When this occurs, our experts at the Orthohealing Center can help you diagnose exactly what's causing the pain, so we can treat the area as naturally and quickly as possible.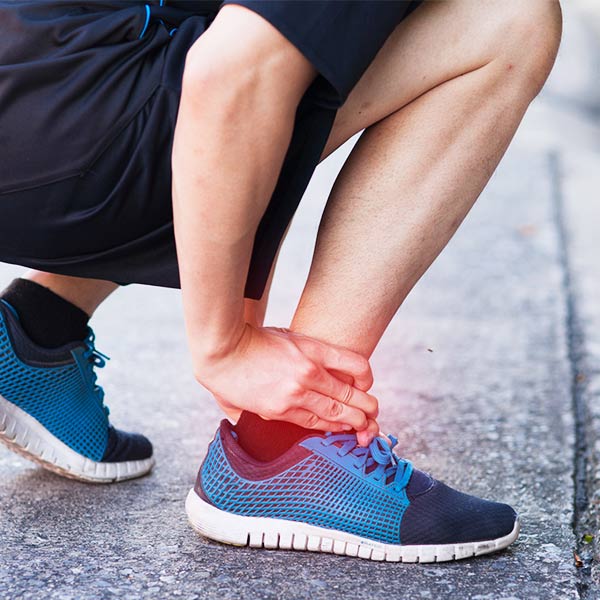 DIAGNOSING THE UNDERLYING CAUSE OF YOUR PAIN
There are a variety of injuries and conditions that can cause foot and ankle pain. Some of the most common ones among our patients in Los Angeles and surrounding areas include:
OSTEOARTHRITIS
Arthritis causes the joints in your foot and ankle to deteriorate over time, causing tenderness, pain, stiffness, swelling and limited mobility.
SPRAINED ANKLE
When the ligaments in your ankle are stretched or torn due to an injury, it's referred to as a sprained ankle. Repeated injuries to this area can result in chronic pain and weakness, so prompt treatment is necessary.
PLANTAR FASCIITIS
One of the most common causes of heel pain, plantar fasciitis is very common among runners. It causes stabbing pain that is worse when you first wake up in the morning, but tends to improve throughout the day.
BURSITIS
Your foot and ankle joints are cushioned by fluid-filled cushions, called bursas. When these structures become inflamed, they can't absorb shock as they're intended to, and your joints may become irritated – causing pain, stiffness and swelling.
ACHILLES TENDINITIS
A common injury among runners and other athletes, Achilles tendinitis is an overuse injury that causes progressive pain in the back of the leg and above the heel after activity.
PREMIER TREATMENT FOR YOUR FOOT AND ANKLE PAIN
Regardless of the underlying cause of your foot and ankle pain, our physiatrists at the Orthohealing Center have premier access to new and innovative therapies
Many of the treatments utilized by the Orthohealing Center's physiatrists focus on treating the root cause of your injury, by attempting to repair the damage from the inside out while potentially slowing the progression of your condition. Rather than providing a quick Band-Aid approach, we work diligently with our patients in Los Angeles to provide a natural alternative for healing, to help people return to doing what they love and live a healthier lifestyle.
Disclaimer: Our healthcare practitioners use products and perform therapies cleared for general use by the United States Food and Drug Administration, but specific indications for treatment have not be evaluated and reviewed by the FDA. You are encouraged to consult with your primary care physician prior to undergoing a cell therapy