ULTRASOUND TECHNOLOGY HAS ADVANCED IN EXTRAORDINARY WAYS OVER THE PAST SEVERAL YEARS.
Our experts at the Orthohealing Center routinely use musculoskeletal ultrasound to diagnose and manage a number of ailments and conditions for our patients in Los Angeles and surrounding areas. Our doctors were among the first in the medical community to integrate ultrasound and develop protocols and techniques with orthobiologic treatments. We have published literature and educated thousands of physicians around the world on the latest ultrasound techniques. Frequently ultrasound is utilized to help ensure precise needle guidance for injections to ensure a comfortable patient experience.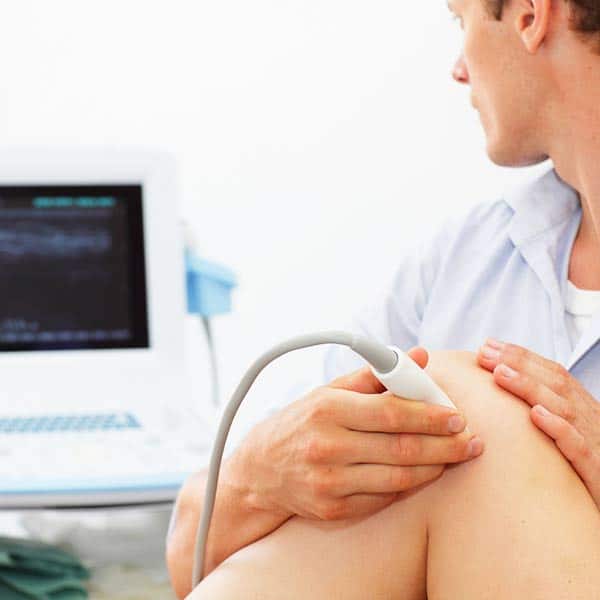 BENEFITS OF MUSCULOSKELETAL ULTRASOUND
Using musculoskeletal ultrasounds to diagnose and manage your condition comes with a variety of appealing benefits, including:
The ability to evaluate bony structures and soft tissues, including your tendons, muscles and ligaments.
It's a very comfortable patient experience that eliminates the claustrophobia and radiation exposure associated with other imaging tests.
Live testing allows our Los Angeles physiatrists to dynamically move your body parts throughout the exam, providing a more dynamic view of the underlying structures and reproduce the pain.
It serves as a guide during many of our non-surgical treatments – such as PRP therapy, bone marrow cell therapy and more – by ensuring the accuracy of our needle placement.
It tends to be more affordable to patients when compared with a CT scan or MRI.
WHAT TO EXPECT DURING YOUR MUSCULOSKELETAL ULTRASOUND
The musculoskeletal ultrasound is a safe, gentle and completely comfortable diagnostic test. To prepare, we recommend wearing loose-fitting clothing to your appointment so we can easily access the treatment area.
To begin, we will place a probe covered with gel on your skin in close proximity to the site of the pain or injury. This probe is connected to a console containing a computer and a video display. From there, the machine will use reflected sound waves to create a live, dynamic image of the area. We will then adjust the settings on the machine to increase the clarity, until we can clearly visualize your anatomy and the underlying tissues enough to make a diagnosis or perform your injections.
Disclaimer: Our healthcare practitioners use products and perform therapies cleared for general use by the United States Food and Drug Administration, but specific indications for treatment have not be evaluated and reviewed by the FDA. You are encouraged to consult with your primary care physician prior to undergoing a cell therapy.