Overview:
Hyaluronic Acid Injections offer an FDA-approved method for treating mild to moderate osteoarthritis. They work by lubricating painful joints and promoting optimal function, especially for individuals who have not been able to achieve relief through other conservative measures.
They also provide a natural anti-inflammatory effect, reducing pain and often avoiding the need for steroid injections. They are an early intervention option for patients hoping to avoid joint replacement.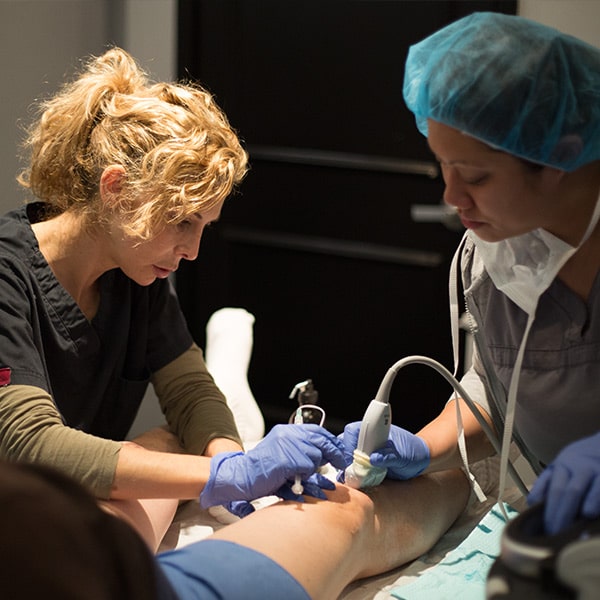 HOW DO HYALURONIC ACID INJECTIONS WORK?
To understand how hyaluronic acid injections work, you first need to understand the condition they target: osteoarthritis (OA).
Osteoarthritis is the most common type of arthritis. It's characterized by the degeneration of cartilage and dysfunction of joint fluid, leading to joint pain, stiffness, tenderness and a loss of flexibility. Without prompt intervention, arthritis is progressive, often worsening over time with further cartilage loss and pain.
Within the body is a naturally-occurring substance, called hyaluronic acid. It works to lubricate your joints, much like a "WD-40," improving overall joint movement, and protecting your bones from impact. When you have arthritis, the hyaluronic acid surrounding your joints begins to deteriorate. Hyaluronic acid injections can restore this lost fluid and lubrication, so your bones are sufficiently protected.
WHO IS A GOOD CANDIDATE FOR HYALURONIC ACID INJECTIONS?
At Orthohealing, we treat hyaluronic acid as another tool that can help our patients. These injections allow patients to avoid corticosteroid injections, as these cannot begiven forever, and at most can be given around three times per year. Steroid injections can also cause a blood sugar spike in diabetic patients.
Hyaluronic acid injections offer a safe, effective, and minimally-invasive way to manage osteoarthritis – but they aren't right for every patient. They are ideal for men and women who have mild to moderate osteoarthritis (not severe) and have been unable to achieve relief with exercise, weight loss and physical therapy. They are also an appealing alternative if you want to avoid painkillers and steroid injections. Hyaluronic acid injections aren't ideal for patients with more advanced osteoarthritis, as these individuals will likely require a more progressive treatment.
Hyaluronic acid injections are a great alternative to over-the-counter pain medications and anti-inflammatories if your stomach can't handle those medications. They are also a good step for patients not yet willing to consider more involved procedures, such as knee replacement.
Disclaimer: Our healthcare practitioners use products and perform therapies cleared for general use by the United States Food and Drug Administration, but specific indications for treatment have not be evaluated and reviewed by the FDA. You are encouraged to consult with your primary care physician prior to undergoing a cell therapy.
HOW OFTEN CAN I HAVE HYALURONIC INJECTIONS?
This varies by the patient. Some patients receive a single injection and notice great results. Others receive weekly injections for 1 to 5 weeks before they experience relief. From there pain relief and joint function should improve for around six months, although this can be longer for some patients. At some point, the joint stiffness and pain will return as the hyaluronic acidis broken downand absorbed by the body.
Hyaluronic acid, unlike corticosteroids, has very few issues with the human body. This is probably because hyaluronic acid occurs naturally in the body, so reactions to these injections are quite rarte.
The timeframe for injections would be based more on your response, rather than aspecific timeframe. Hyaluronic acid is different than steroid injections in that way.
WHEN WILL I SEE RESULTS FROM MY HYALURONIC ACID INJECTION PROCEDURE?
Most patients have a decrease in pain and better function in the joint for around six months before the hyaluronic acid degrades and is absorbed by the body. Other patients have longer positive results. As you would assume, results can vary by the patient.
ARE THESE HYALURONIC ACID INJECTIONS PAINFUL?
For most patients, we apply local numbing injection with an acupuncture like needle and utilize ultrasound to ensure accurate placement and a very comfortable experience.
WHAT ARE THE SIDE EFFECTS WITH HYALURONIC ACID INJECTIONS?
As mentioned above, hyaluronic acid is a naturally occurring substance in the human body, so reactions to these injections are uncommon. These are low-risk treatments. Side effects include some pain at the injection site, swelling, heat, redness, and possible build-up of fluid around the knee. These usually pass quickly with a little rest and possible icing. Infection or worsening pain is possible with this or any injection procedure, but the risk is exceedingly low with our team of expert physicians..
ARE HYALURONIC INJECTIONS SAFE?
While you may not have heard of hyaluronic acid used for osteoarthritis joint pain relief, you've surely heard of it from its more famous use — in dermal fillers used to erase wrinkles and creases. Hyaluronic acid is the basis of the most popular dermal fillers in the world, Juvéderm and Restylane. That's because in addition to helping our joints move fluidly, hyaluronic acid also is responsible for hydration and plumping of our skin. It does this by naturally binding with water molecules under the skin. These dermal fillers are classified as "natural" because they are basically only hyaluronic acid, and the FDA has cleared them all for aesthetic use.
Bottom line? Hyaluronic acid is well-tolerated by the body, has very low risk of any reactions or problems, and can provide relief from your chronic joint pain. If you've tried other treatments, but aren't ready to consider joint replacement, this could be a good option.
Schedule Your Consultation Today!