Taking a good picture of a meniscus injury has never easy.  Magnetic Resonance Imaging (MRI) is widely accepted as the "gold standard" for identifying the meniscus, but not without its shortcomings.  MRI has been reported to have a misdiagnosis rate of up to 47%.  Which means that 47% of the time MRI is not able to detect meniscal injury.  In addition, the machine is quite costly, and not accessible to everyone. As of late, new imaging modalities such as musculoskeletal ultrasound have become widely used in sports medicine, and as technology advances, diagnostic imaging is becoming easier, faster, and more accurate.
A recent study published in the Journal of Knee Surgery, compared Ultrasonography to MRI in detecting meniscal injury in patients suffering from acute knee pain.  Seventy-one patients with acute knee pain were enrolled in the study, and each patient received preoperative MRI and Ultrasound imaging to identify damaged meniscus in the injured knee.  Then the patients underwent arthroscopic knee evaluation to determine the exact degree of meniscal pathology. The data was collected and each imaging modality was compared to the degree of damage discovered during arthroscopic examination.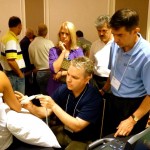 The results revealed that Ultrasonography was "two times more likely" than MRI in correctly determining the presence or absence of meniscal injury present in the arthroscopic knee evaluation.  The results of the study suggest that Ultrasound imaging is a potentially effective tool for identifying meniscal pathology in acute knee injuries, and has potential advantages to MRI.  Although more research is needed to fully understand the clinical usefulness of musculoskeletal ultrasound and its potential advantages to MRI, this study provides evidence suggesting the use of a portable ultrasound device for point-of-injury diagnostic imaging of meniscus pathology.
The Orthohealing Center has not only utilized musculoskeletal ultrasound extensively for diagnostic purposes on joints, tendons, muscles, and ligaments, but also for ultrasound-guided injections.  Performing an injection under ultrasound guidance insures pin-point accuracy of injections and confirms that the treatment is being performed in the precise area where it is needed most.  Check out Dr. Sampson performing an ultrasound-guided injection demonstration at The Orthobiologic Institute (TOBI) conference (image on left).  This year's (TOBI) The Orthobiologic Institute conference will feature a musculoskeletal ultrasound lecture by Dr. Jay Smith from Mayo Clinic, as well as a hands-on ultrasound training lab with ultrasound-guided injections on cadavers.
Follow Orthohealing Center on Facebook and Twitter for more great articles and cutting edge research!