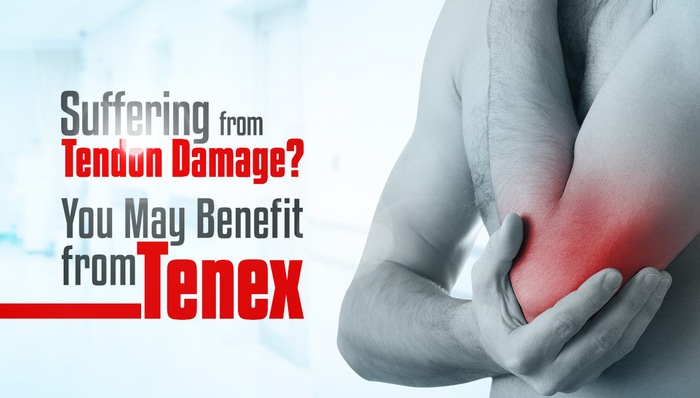 Leading an active lifestyle can leave you suffering from painful tendon damage. You may have tried various ways to resolve this painful condition, from rest to taking anti-inflammatory medications, to cortisone injections or physical therapy. Unfortunately, in many cases, these treatments fail to resolve the pain of injured tendons and tendonitis. Tenex treatment is an innovative, non-surgical procedure that has been found to be exceptionally effective in reducing pain for most patients. As such, the Orthohealing Center is dedicated to providing some of the best tendonitis treatment Los Angeles and Beverly Hills have to offer.
What Is the Tenex Treatment?
Tenex is a highly advanced, groundbreaking treatment developed to treat specific types of soft tissue injuries. Ultrasonic energy is applied by our top physiatrists to the injured body area, identifying and removing diseased areas to restore natural function. The advantages of this treatment include avoiding the need for having invasive surgery, which carries inherent risks and requires a far longer period of recovery. As the procedure is performed with ultrasound technology, little to no scarring occurs at the treatment site.
You want to be able to return to your normal activities as quickly as possible, and the Tenex treatment offers a highly advanced, non-surgical solution. This is an outpatient procedure performed under local anesthetic, and it is both safe and effective, as well as being less expensive than surgery. The procedure is usually covered by health insurance. After the treatment is complete, the patient will experience little to no pain and a rapid recovery, returning to normal activities in as little as six weeks—far less time than recovering from surgery. There is little to no risk of infection and no extensive physical therapy treatment needed to restore motion. Only one treatment is usually required to resolve tendon damage, and Tenex has the advantage of halting further degeneration of tissue that could eventually lead to the need for surgery.
What to Expect During Treatment
The Tenex procedure uses cutting edge technology to resolve tendon damage. Ultrasound imaging is employed to identify the precise area of damage while you comfortably rest on a procedure table. Your skin will be cleaned to minimize the risk of infection. A special ultrasound probe is then used to find and see the injured tendon, as well as the surrounding structures.
After the area of damage is located, the specific area is anesthetized. Once fully numbed, a tiny incision is made in the skin so that the Tenex treatment device can be used. The tip of the device is very small—no larger than a needle—and it can enter the damaged body area without disturbing the surrounding tissue. The treatment device is carefully moved, aided by the ultrasound image that is transmitted in real time.
Once the damaged area is contacted, the device activates and emits high frequency ultrasonic energy. This energy breaks up the damaged area of the tendon, and the device extracts the removed tissue at the same time. The procedure is completely pain-free, and only the damaged tissue is removed, taking only a few minutes to complete. Once the damaged tendon tissue is extracted, the device is removed, and only a bandage is needed to cover the small incision.
Every patient deserves a fully customized treatment plan, and we are not interested in any cookie-cutter treatment methods. We look for the underlying cause of the condition and treat it rather than masking it. Our goal is to help you achieve long-term pain relief and to help you get back into the sports activities you love as quickly and safely as possible. Tenex treatment is just one of the innovative procedures that we offer patients who are suffering from tendonitis. Our healing center serves Beverly Hills as well as the entire Los Angeles area.
Call us to make an appointment to discuss Tenex treatment if you are suffering from tendon pain or damage before you consider surgery. 310-312-8095